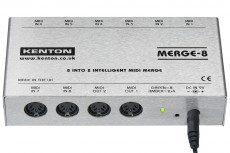 Merges the data from up to eight separate MIDI sources (e.g. master keyboards, controllers, computers etc.) into a single MIDI data stream which appears at both of the MIDI out sockets.
Merges all MIDI data including MIDI Clock, MIDI time code and SysEx (see the manual for merging rules). Can also be configured as two completely independent 4 into 1 mergers with the simple press of a recessed button (see manual for details).
9V-Schaltnetzteil im Lieferumfang enthalten. Die Produkte werden mit dem für die Lieferadresse passenden Netzteil geliefert. Es sind vier Typen erhältlich, UK / EU / USA / Australien.
---
Dimensions: 155mm x 80mm x 35mm
Weight: 220g excluding power supply
---
---
€
179