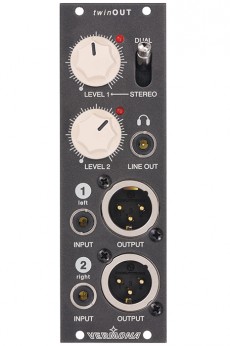 Beside spectacular sound-engines and -shapers, conventional and uncommon sources and modulators of control voltages, a modular synthesizer also needs a choice of modules to handle the daily routine. twinOUT is such a module - the perfect connection to your studio.
This DI-box in a module offers two adjustable, electronically balanced XLR-outputs for stereo or independent dual-mono use. An additional headphone output, also suited for line level output completes twinOUT's feature-set. To bring out the best of your modular synthesizer, there's no getting around the twinOUT! Just like every VERMONA module, each twinOUT is produced in Vermona's "elektroakustische Manufaktur".
Frequency Range: 20 Hz - 20 kHz (±0,2 dB)
Signal-to-Noise ratio: > 90 dB
THD+Noise: 0,01% Inputs
Nominal Input Level: +6 dBu
max. Input Level: +24 dBu
Input Impedance: 100 kΩ Outputs
max. Output Level: +24 dBu (XLR)
Output Impedance: 600 Ω
Amplification: +12 dB
CLIP LED +12 dBu (XLR) +6 dBu (TRS without damper) –4 dBu (TRS with damper)
Power Consumption:
HP : 8
---
.
---
.
---
.
€
229