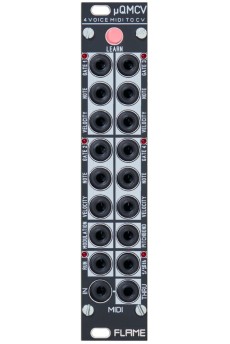 The FLAME µQMCV 4Voice provides 1V/oct, gate and velocity CV signals for four voices from the incoming Midi signals and additionally offers an aftertouch and modulation CV output as well as a run transport output and clock output.
Features:
4 Midi to CV channels with Gate,Note, Velocity
5 modes are possible:
    A) 4-way polyphonic
    B) 3x polyphonic+1x monophonic
    C) 2x two voices
    D) 1x two voices and 2x monophonic
    E) 4x monophonic
2 gate outputs for MIDI-Clock Run and 1/16th clock
2 additional controller CV outputs for modulation wheel and pitchbend
MIDI Input and THRU (TRS MIDI B standard)
HP : 5
---
.

---
.
---
.
€
189