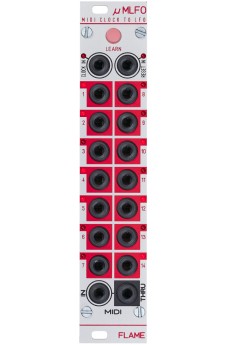 The Flame µMLFO consists of 14 MIDI LFOs which are synchronized to the clock. The module also works with analog clock.
Additional analog clock and reset inputs allow to create pingable LFOs.
It is possible to adjust the frequency, waveform and phase of each LFO. 12 presets are selectable via MIDI keyboard. Thanks to Sysex it is possible to program new setups.
Features:
14 MIDI LFOs (synced to MIDI clock)
also works with analog clock
additional analog clock and reset inputs (pingable LFOs)
LFO outputs programmable (rate, waveform, phase)
12 presets selectable via MIDI keyboard and LEARN function
Setups programmable also via SYSEX
LFO output voltage between -/+5V
MIDI input and THRU (TRS MIDI B standard)
---
HP : 5
---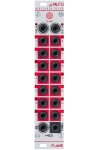 ---
€
189