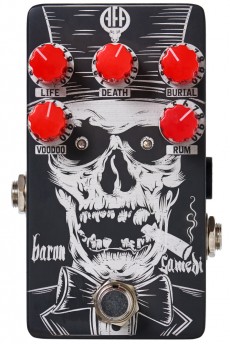 The AFA Baron Samedi Fuzz pays homage to the legendary Jordan Bosstone, but sounds nothing like one. Additional gain and a very strange tone control add aggression, fullness and bite to the sound. The interactivity of the top three knobs make this a raucous device that yields an entire variety of sounds, from a great vintage fuzz tone to synthier sounds with faux-portamento decay.
Guaranteed to summon harmonics from other worlds, the AFA Baron Samedi encapsulates the vulgarity, the madness and sheer joy of the electric guitar. Whether you're playing mellower brass sounds on a jazz solo from hell, gated faux-bass single-note riffs or all-out scooped mid riffs, this pedal will take every note to the afterlife and back.
Did we just say guitar? For those unafraid to experiment and stand out, the Baron is a devastating effect, live or in the studio, to use on drum machines, synthesisers and bass guitar too.
Hand-built with pride in Bombay, India.
---
---
---
€
190
Video