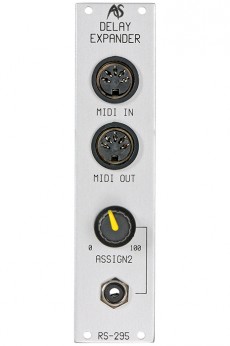 The RS-295 expands the RS-290 sampler/delay by a MIDI interface and a second assignable controller. Using the RS-295 samples can be dumped and retrieved using SysEx dumps. The module is connected to the RS-290 by a flat ribbon cable. See RS-290´s operation manual.
All modules by Analogue Systems come ready to use with five years warranty mounted in the by the customer preferred rack or cabinet.
For a timely delivery please confirm your choice and configuration as customer or specialised dealer via email here: www.analoguesystems.de
Depth: 20mm
HP : 6
---
.
---
.
---
.
€
95
related