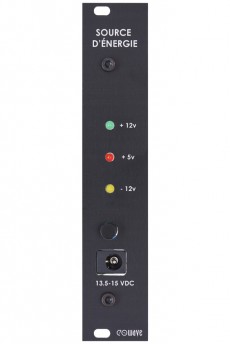 The Source D'Energie is a power supply module designed to power up to a 6U case with +/-12v and 5v rails. Wall wart plugs can be used for a skiff or case with few modules, but for anything more than that we recommend a 4A power supply.
The Source D'Energie has two 16 pin headers, perfect for powering two rows of your system.  LED's on the panel indicate the health of each rail at a glance.
15 VDC Input
+12V 1.5A
-12V 1A
+5V 0.5A
---
The Source d'Energie is delivered without a power supply unit.
We recommend a 4A power supply with 15 volt.
Depth: 40mm
HP : 5
---
---
€
90