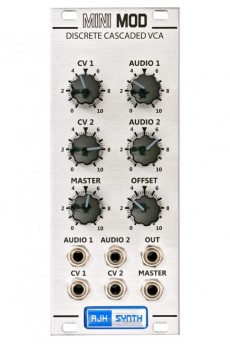 Accurate clone of the transistor VCA from the early Minimoog. To be exact it's a cascaded dual VCA, as the Minimoog had two, connected in series.
Use the first for distortion and the second as master VCA. This VCA module has two audio inputs with attenuators. For the first VCA you can jumper-select a high-gain mode which causes the circuit to overdrive. Similar to a guitar amp you can use the 1st VCA for controlling input level and distortion while the 2nd determines the output level. The amount of distortion depends also on the setting of audio 1 & 2 controls . The distortion clips the odd harmonics much more than the even ones which is a behaviour similar to tube amps.
The CV inputs 1 and 2 plus the offset potentiometer control the first VCA, while the Master CV input and the Master potentiometer control the second one.
If nothing is plugged into the master CV input, the Master control is the output volume controller. When a CV is present, the potentiometer turns into an attenuator. The master CV input is sensitve and can be overmodulated with high-amplitude CVs. The VCA has a linear characteristic and should be modulated with exponential envelopes, e.g. the Dual Contour by AJH Synth which is a Minimoog envelope clone.
---
Power consumption: 40mA at +12 V and 22mA at -12 V
Depth: 26mm
HP : 10
---
---
€
229
related