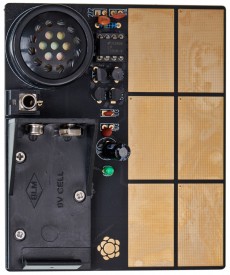 The Crackle Box from Menq Qi is a touch synthesizer in a small footprint (90x80mm), based on a circuit designed by Michel Waisvisz of STEIM.
It's a standalone instrument powered by a nine volt battery. It features an onboard speaker and six touch pads so it can be played anywhere - take it with you and make music in any place! Thanks to a 1/8 audio jack output it is possible to record the produced sounds.
A LED flashes with the sound and gives you a visual feedback.
Crackle Box is a funny touch instrument -easy to play and to carry around! It will surprise you by its crazy sounds and the pleasant feel while playing with it.    
---
.
---
.
---
.
€
39