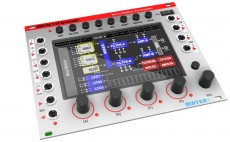 The M800-R2 – extended Virtual Analog [XVA] module is a modern 16-voice polyphonic synthesizer. Next to VA synthesis, it features Wavetables, Drum Sounds and a MIDI Clip Launcher.
The overall audio path is stereophonic including the oscillator, mixer, filter, amps and effects.
The synthesizer provides two oscillators, which can work either as VA with morphable waves or in wavetable mode. There are 32 wavetables installed, in the future the import of user wavetables is also planned.
There are two multimode filters that can operate independently or be coupled together. For modulation 4 envelope generators and 3 LFO's are available per voice.
It offers four multitimbral parts (A, B, C, D). All four parts have an independent arpeggiator and step sequencer. Furthermore each part has its own effect stack featuring chorus, vibrato, reverb, tube-amp, EQ, LP-Filter, limiter and stereo delay.
Additionally, there is a drum section. The drum sounds are sampled and the import of own samples is possible. Furthermore, the drums can be used to control an effect via side-chain. The integrated trigger sequencer can also send triggers to the MIDI-Out or the CV outputs.
Overall the sequencers (arpeggiator & trigger sequencer) are managed via the clip Launcher.  
---
Depth: 30mm
HP : 32
---

---
€
TBA
Video