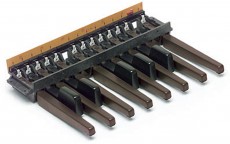 Bass pedal PD/3, 13 keys / one octave, non dynamic contacts (no velocity), plastic frame overall.
dimensions (incl. frame and side angles left/right): about 580 mm width x 380 mm depth x 95 mm
height distance between the brown keys: about 65 mm
distance between upper and lower key (C-C): about 450 mm
length of the brown keys (visible area): about 240 mm
length of the black keys (visible area): about 130 mm
---
.

---
.
---
.
€
130