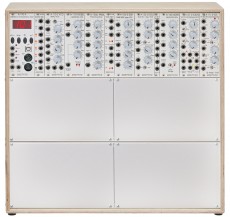 The Basic Starter System is a special combination of Doepfer modules which does not follow the usual synthesizer paths. It invites to experiment and supports "modern modular thinking".
It is mounted in a 9U high wooden cabinet equipped with a strong power supply which is usable worldwide.
The enclosure is a LC9 lowcost wooden case with 9U heights and it has three rows for mounting Eurorack modules, each has a width of 84 HP.
Usable depth for modules: 80mm near the power supply (bottom right), ca. 100mm elsewhere.
Power: Strong switching power supply and two busboards, each with 14 module connectors.
The power supply accepts mains voltages from 100 V to 240 V and can be used all over the world. It provides you with:
+12 V: 2 A
+5 V: 4 A
-12 V: 1.2 A
The Starter System 1 contains following modules:
A-190-4 MIDI / USB to CV / gate / sync interface
A-160 clock divider ... well, for dividing clock signals
A-110-2 basic analog VCO with 4 wave forms
A-118 noise generator / random generator
A-148 dual sample & hold generator
A-138c polarizing mixer with signal attenuation and inversion
A-106-5 12dB multi mode filter fro mthe Oberheim SEM
A-132-3 dual VCA with linear/exponential characteristic
A-180-2 multiples for splitting and routing signals
A-140 ADSR type envelope
A-171-2 complex function generator e.g. for modulating
A-147-2 LFO with voltage control of frequency and a delay function
The modules occupy one row of 84HP width in total, the remaining row is covered with four 42HP wide blank panels. Expanding the modular system is possible for that reason.
---
9U Eurorack modular system with 3 rows of 84HP, one row is filled with the A-100BSM Minisystem
---
---
€
1565