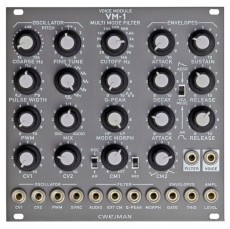 The Voicemodule VM-1S is for sure one of the best compact synthesizers in the upper class as Cwejman just is making it: Knorky direct sounds and effects or just clear sounds and waves up to hardest noises or just thick basslines are possible and nearly selfunderstanding with just this module.
VCO: Like in the S1 or VCO2-RM seven selectble waveforms, three with PWM. Controls for coarse and fine tuning, pulse width, attenuators for all CV inputs. Crossfader for setting level relation between VCO or external audio signal. Frequency range: 10Hz-22kHz.
Multimode filter: Continuous morphing by CV or manual control between low-, band- and highpass. Resonance up to self-oscillation. Frequency range: 16Hz-16kHz. Cutoff modulation by VCO, envelopes or an external control voltage.
Envelopes: ADSR and AR types. Times: 0.5ms-20s. Continuous bipolar control for positive/negative modulation of VCF.
VCA: High-end VCA, modulation with AR- and ADSR envelopes or external CV
---
Filter Out Voice Out OSC CV1 In OSC CV2 In OSC PWM In OSC Sync In Filter Audio In Filter CV In Filter Q CV In Filter Morph CV In ENV Gate In ENV Trig In VCA Level In
HP : 26
---
---
€
710