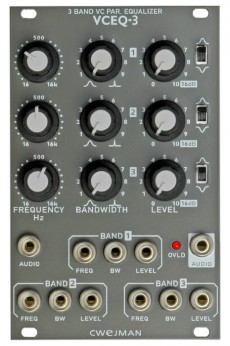 Three individual voltage controllable parametric equalizers in an amazing quality are the argument for this very special module by Cwejman. The characteristic can be switched from notch to bandpass for each Filter. Frequency, bandwidth and amplitude can be controlled via CV and/or per dedicated knobs individually for each band.
Frequency Range from 5 Hz to 22 kHz. The Cutoff CV input has a characteristic of 1V/octave. The bandwidth and amplitude CVi nputs accept CVs in the range of 0V to +5V.
The overload indicator lights up 3dB below the clipping level.
All Cwejman modules are screened against interferences, protected against reverse polarity and contain calibration options on the backside.
HP : 16
---
.
---
.
---
.
€
592