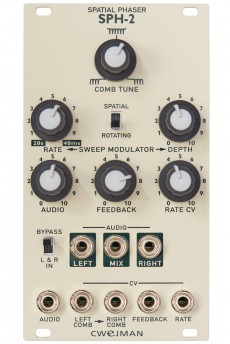 The module SPH-2 is a 14-stage stereo phaser with three audio outputs and many modulation options. The audio quality conforms to highest studio requirements!
So far it´s the phaser with the best sound and lowest noise.
The SPH features two modes: spacial and rotating. The phase shift is modulated by an internal LFO ranging from 20s to 40ms per cycle. It´s intensity can be controlled manually, it´s speed manually and with a CV. The spectrum of the phaser and the feedback can be set by manual control. Bonus points for the bypass switch, Mr. Cwejman!
All Cwejman modules are screened against interferences, protected against reverse polarity and contain calibration options on the backside
---
Left Out Mix Out Right Out Audio In Spectrum Left CV Spectrum L+R CV Spectrum Right CV Rate CV
HP : 14
---
---
€
680