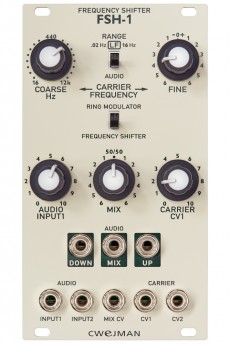 The FSH-1 module is a voltage controlled frequency shifter in studio quality.
Unlike to other products on the market there is no bleedthrough of the internal oscillator and no audible noise!
The signals can be shifted up- and downwards; alternatively the module can be used as a high-quality ring modulator. The carrier frequency of the oscillator can be switched into LFO mode and thus reaches from 0,01Hz to 14kHz ! Two audio signals can be connected, of which the first one´s level can be adjusted. There´s also a coarse and fine tune control for the VCO and frequency modulation inputs.
Generally all Cwejman modules are shielded from interferences and contain lots of calibration possibilities on the backside
HP : 14
---
.
---
.
---
.
€
680