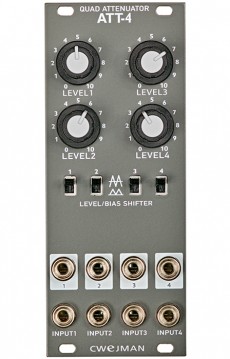 The ATT-4 is a fourfold attenuator with additional offset-switches.
Its primary task is the attenuation of modulations in case modulation inputs don't have their own attenuators. So very gentle, discrete modulations are possible. But if set to to bipolar mode audio signals can also be attenuated.
The module consists of four identical sub-units which feature besides in- and outputs a level potentiometer. The offset- or BIAS-switch converts bi-polar signals like audio signals or modulations from LFOs which reach from -2.5V to 2.5V (5V amplitude) in signals from 0-5V.
HP : 10
---
.
---
.
---
.
€
264