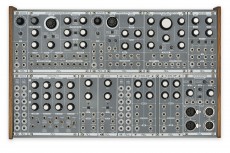 Dream synth for classic and modern sounds!
With System II Audiophile Circuits League presents a powerful modular Synthesizer with two full-featured oscillators and an extremely musical Lowpass filter. Based on the Multifunction Discrete VCO and the Variable Sync VCO, System II serves with an unbelievably vast sound spectrum, from thick basses to aggressive leads. The new VC Dual Amp provides a crystal clear sound, which can be perfectly integrated in the studio thanks to the high quality Audio Interface.
System II is a beautiful compact system, suitable for all situations!
Included modules:
---
---
---
€
4600