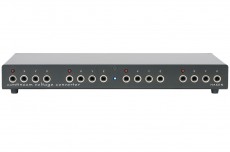 Der passenden Haken continuum voltage converter wandelt drei Dimensionen der Eingriffe in drei Steuerspannungen und erzeugt zusätzlich ein Gate signal in Abhängigkeit von Voreinstellungen. Alles vierfach polyphon.
The Continuum Voltage Converter is a high-resolution MIDI-to-CV converter specially designed for the three-dimensional signals of the Continuum Controller.
Four channels each output a gate signal and three CV signals, which are derived from the finger position left/right and front/rear and the prssure depth. Due to the very high data readout rate of the Continuum Controller, audible noises may occur during normal MIDI-CV conversion, but the CVC has a data filter to avoid this. The CVC can be mounted in a 19" standard rack with optionally available rack tubes.


---
.
---
.
---
.
€
1160