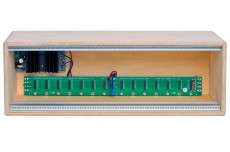 This frame is the small version of the low-cost cases A-100LC6/LC9, which is identical in construction to the A-100LC6, but has only one row with 84HP available for the installation of modules. It is equipped with a power supply (1200mA). For space reasons, the power supply of DIY-Kit #1 is used, as there is not enough space for the "normal" power supply A-100PSU3. Power is supplied by an external 230 volt AC power supply (transformer) as in DIY kit #1, with a hole on the left side of the case for plugging in the power supply (the external power supply is not shown in the photos above). The housing is made of raw wood and can be painted in any desired colour with the aid of a paint spray can, for example.

- Dimensions:
outside: approx. 445 (W) x 150 (H) x 160 (D)
inside: 1 x 84 HP x 3 U
- Usable depth for A-100 modules: approx.110 mm (calculated from the inside of the front panel)

- Weight (without modules):
approx. 2.5 kg without external transformer
approx. 3.5 kg with external transformer
- Number of bus boards: 1
- Maximum current output: 1200 mA
---
.
---
.
---
.
€
195